>>>>+<<<<
An enhanced, more artistic and complex variation of the "Arranged Object" mount. Exhibition slides were often considered to be the pinnacle of the commercial mounters art, considering the degree of difficulty in their preparation. Combining various objects, often many 100s (or 1000s!) of individual butterfly or insect scales, diatoms, spicules, etc.; each piece was individually selected and painstakingly placed to create the pictures or complex geometric arrangements. Some of the finest examples of these amazing "picture" slides (using primarily butterfly and insect scales) were made in the last quarter of the 19th Century by H. (Harold) Dalton, and were then sometimes factored through W. Watson & Sons of London, carrying their secondary labels.
The image immediately below, from a mount by W. Watson & Sons, London c. 1880s is composed of diatoms, butterfly scales, and plates and anchors of Synapta (Sea Cucumber). It is a beautiful example of the geometric variety of exhibition mount.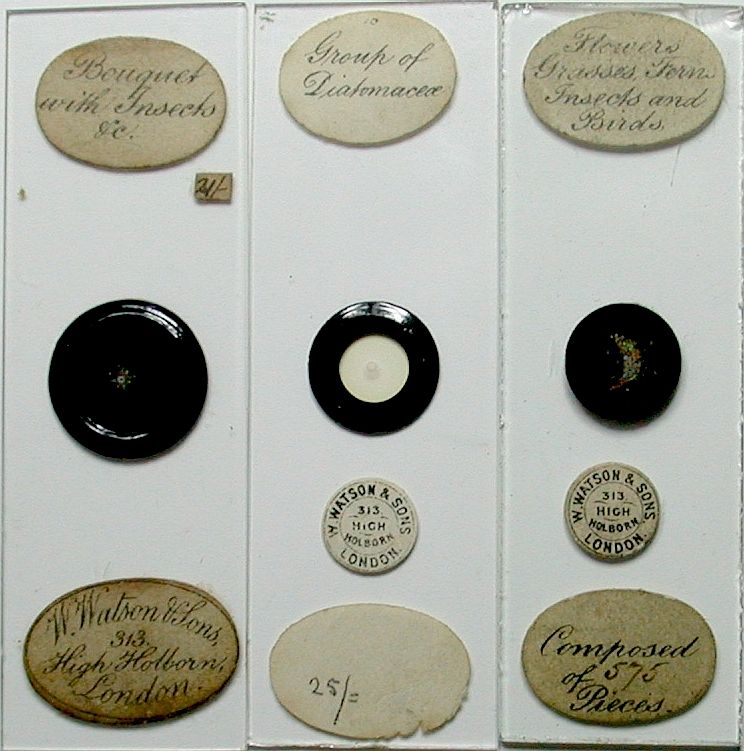 Above, 3 fine Exhibition slides by Watson & Sons, London, c. 1880s. Watsons retailed these slides made by many of the very best mounters of the time, including Moller, Thum, and Dalton.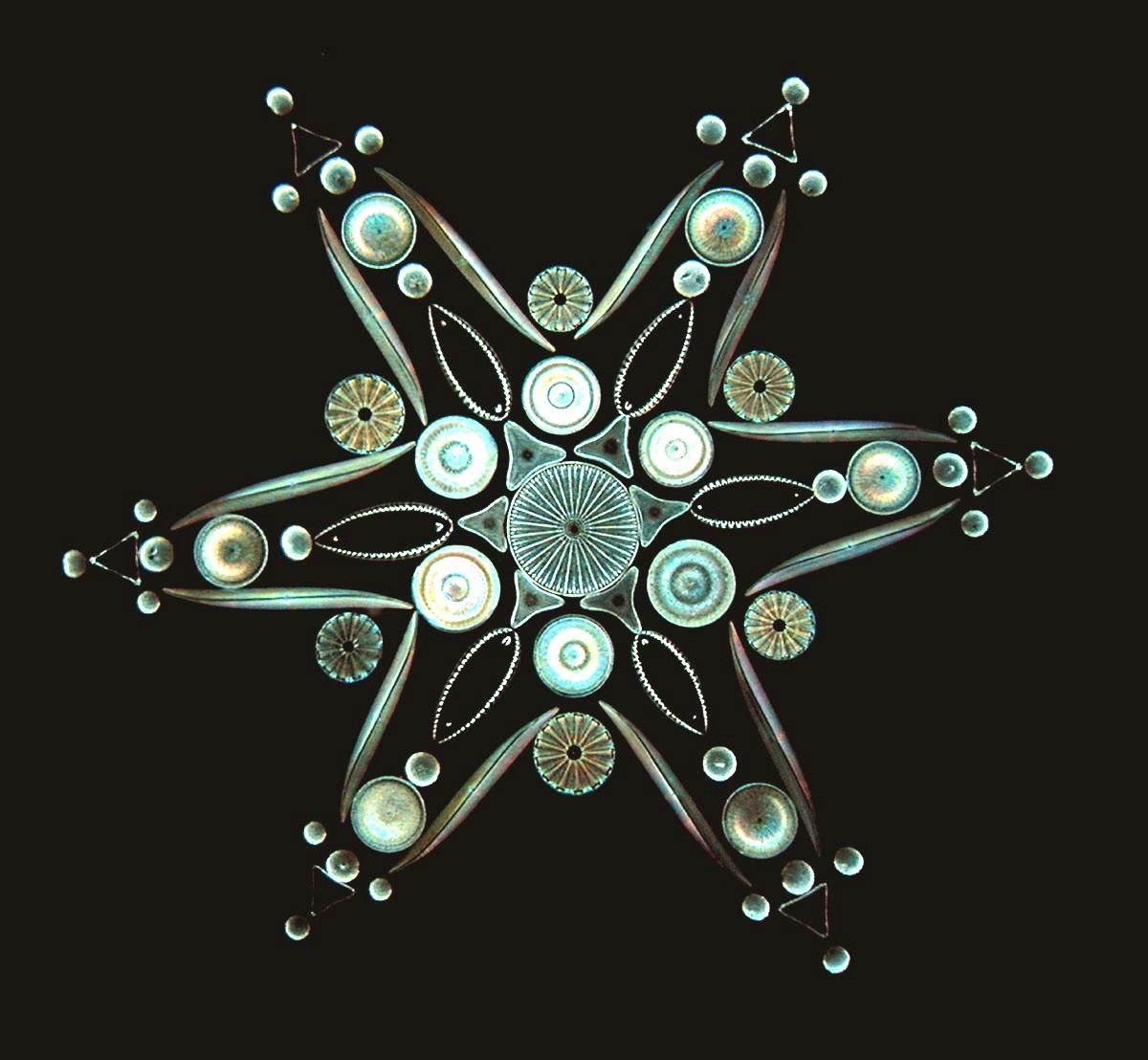 Above, an Exhibition Mount of Arranged Diatoms by Watson & Sons, London, c. 1885; and below, two Exhibition or Picture Mounts made using butterfly and insect wing scales. Immediately below, "Flowers, Grasses, Ferns, Insects, and Birds", and far bottom image "Bouquet with Insects, Etc.", probably by H. Dalton, for W. Watson & Sons, London, c. 1880s. All imaged using combinations of Darkfield and or Reflected lighting techniques.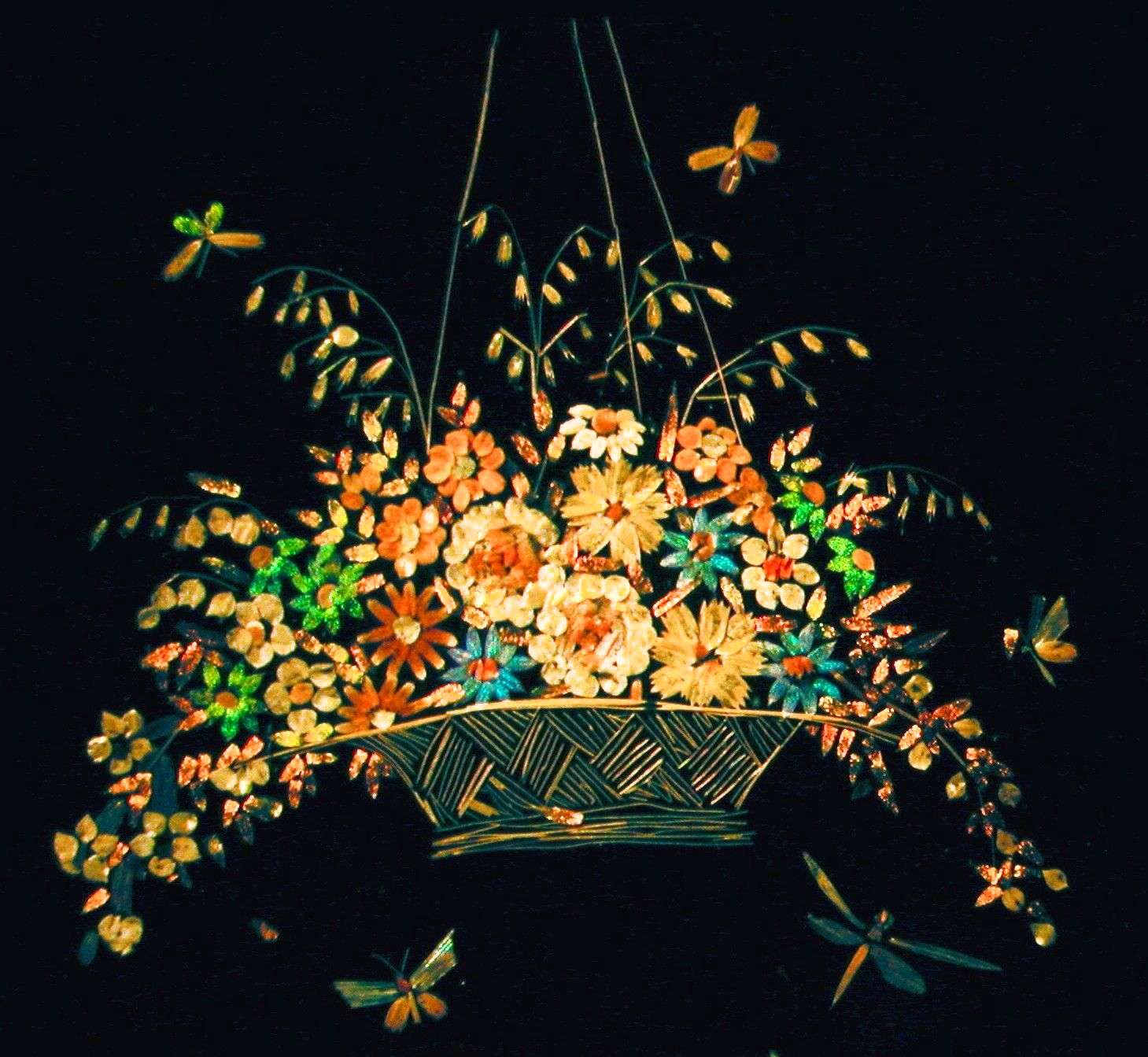 Soirees were popular social events, where guests could view the latest Exhibition slides. These gatherings were often put on by microscope instrument makers such as Smith & Beck and Ross, or the Microscopical Society of London (after 1866, known as the Royal Microscopical Society).
Exhibition Rosette of Arranged Diatoms by E. Thum, c. 1880s
Shown above, the detail of four amazing "picture" slides created by Harold Dalton using butterfly and insect scales, diatoms, etc. Dalton was probably the premier artistic mounter producing this type of exhibition mount. An interesting newspaper article "Painting Microscopic Slides" that appeared in 1886 discussing Dalton and his art can be found here.

Below, is shown an example of a specially designed microscope (maker unknown), used for the preparation of exhibition mounts. The cabinet, sealed by a hinged door, allowed remote manipulation and arrangement of the microscopic objects. The slide, mounted on the interior stage assembly, would be protected from air currents, dust, etc during the lengthy construction process.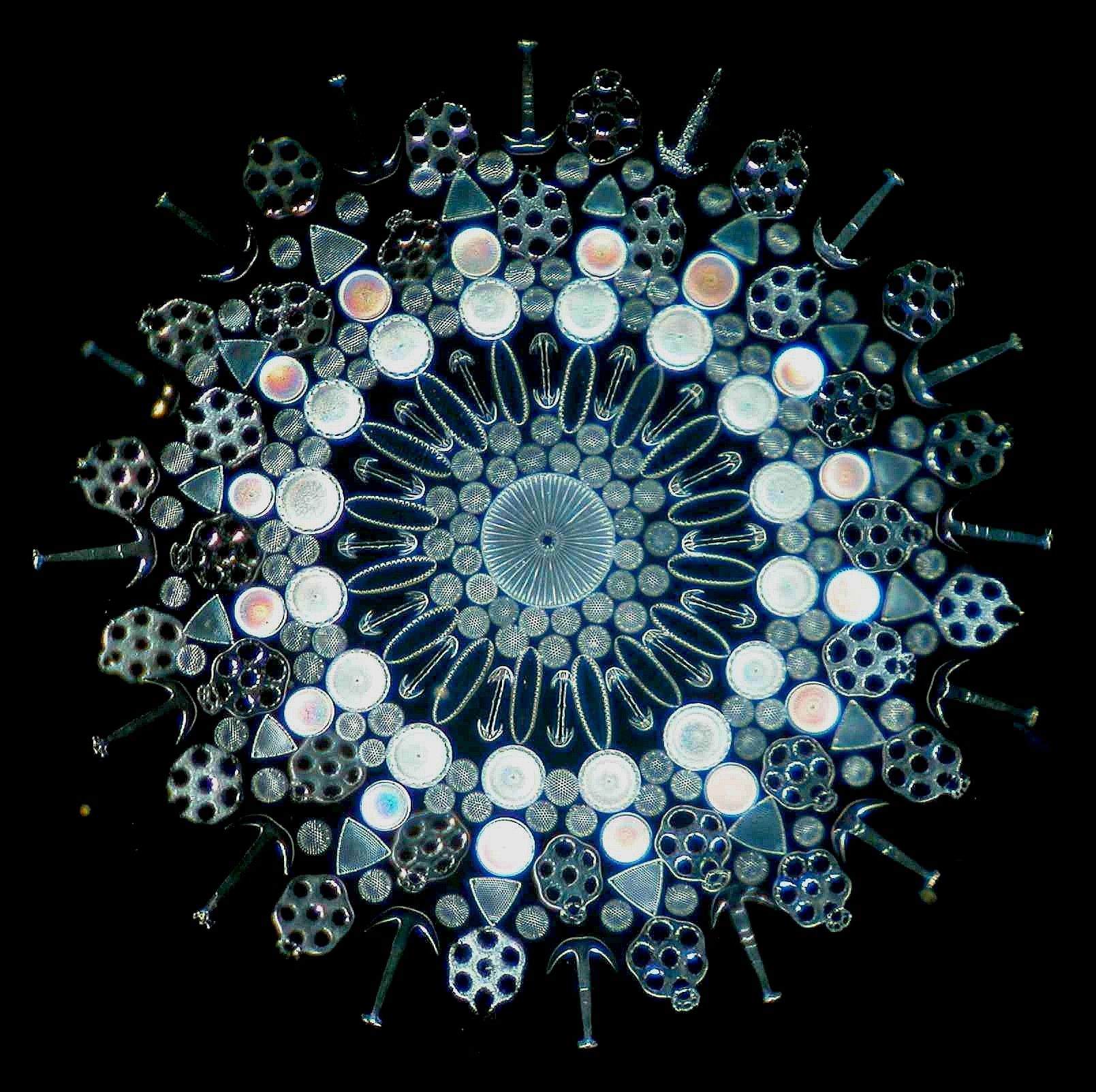 Another beautiful Exhibition mount by Watson & Sons, London composed of Diatoms, Sponge Spicules, and Plates & Anchors. c. 1880s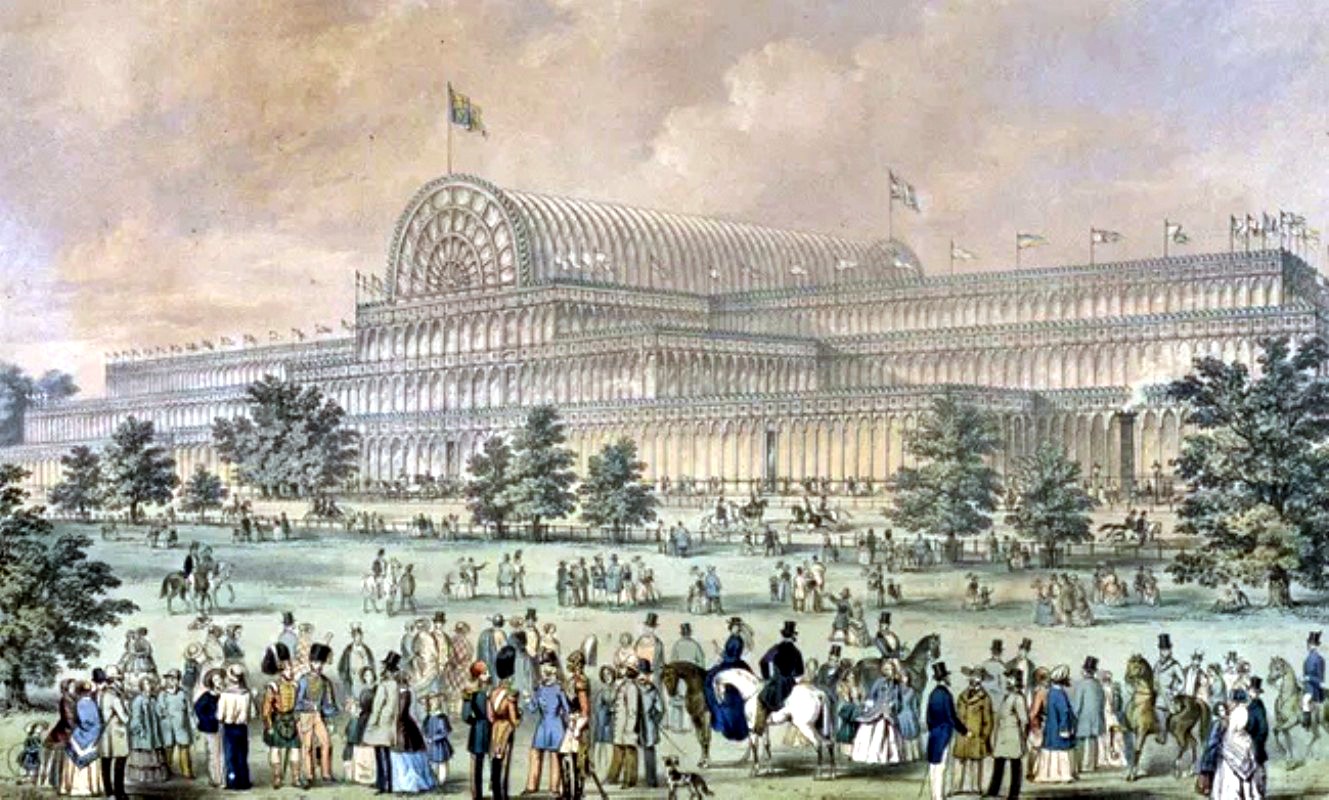 The 1st International Worlds Fair "The Great Exhibition" opened in London 1851 at the newly completed "Crystal Palace". Many of the top Microscope and slide makers exhibited their best instruments and preparations, with C.M. Topping winning a Gold Medal.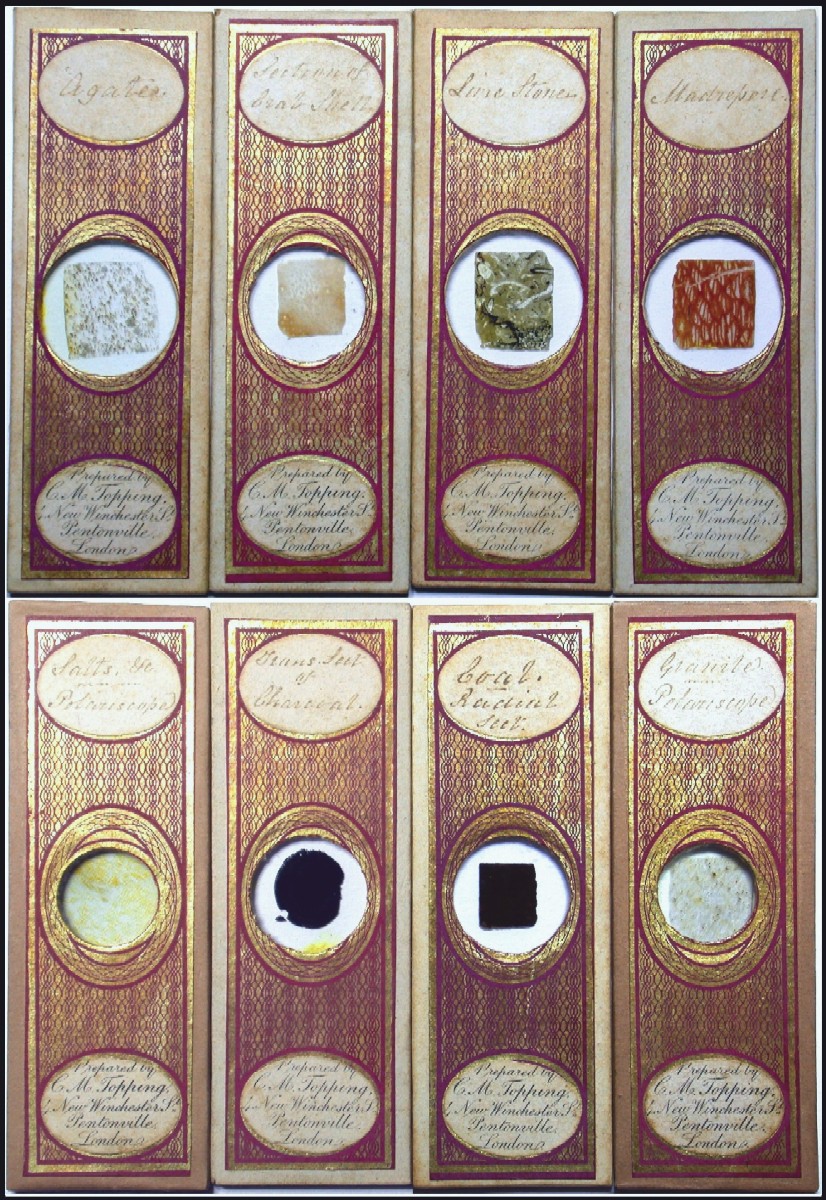 Above and below, actual slides that were part of C.M. Toppings Gold Medal winning display and submission at the Great Exhibition in 1851. Note the unusual mounting and papering method that allowed attachment to the backing display board. The heavy gold gilt patterened cover papers Topping used were only used for his exhibition mounts, as were the cream white edge and backing papers.