>>>>+<<<<
Diatoms were probably some of the first minute life forms observed with early microscopes. Originally referred to and included in the broad grouping known as "Animacules" or "Infusoria", the Diatomaceae have been, and remain, a subject of wide interest and study... most recently as a "window into the past" in regards to climate change. All of the professional mounters during the Victorian era prepared and offered numerous diatom slides of material obtained from locations around the world. There were also a number of scientists, naturalists, and talented amateurs who specialized in their mounting, study, and classification. Importantly, diatoms were also mounted for many years specifically to be used as a way to test microscope objective resolving power. For this use, certain species were often mounted dry (sometimes using two thin glass coverslips attached to a wood slide), and are frequently seen labeled as "test" slides.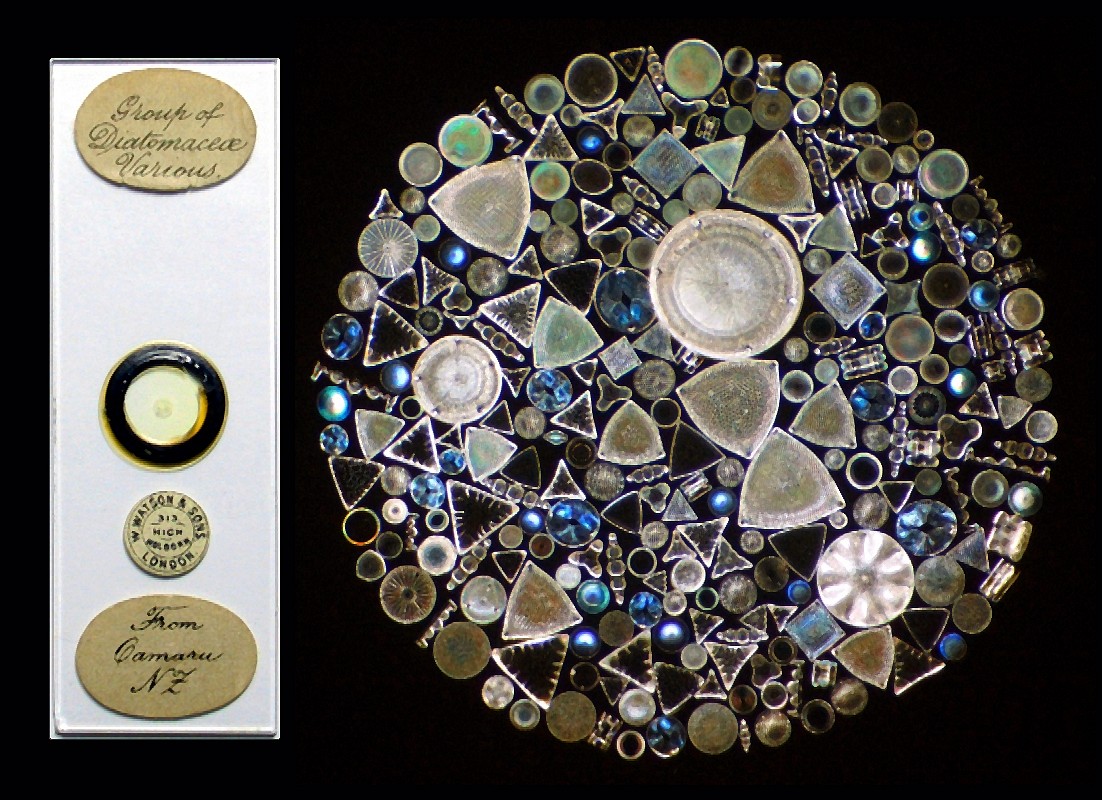 Above, an exhibition slide by Watson & Sons, London, c. 1880s, with a large arranged circle of various selected diatom specimens from Oamaru, New Zealand, imaged in Darkfield. Below, a Navicula diatom, also imaged in Darkfield.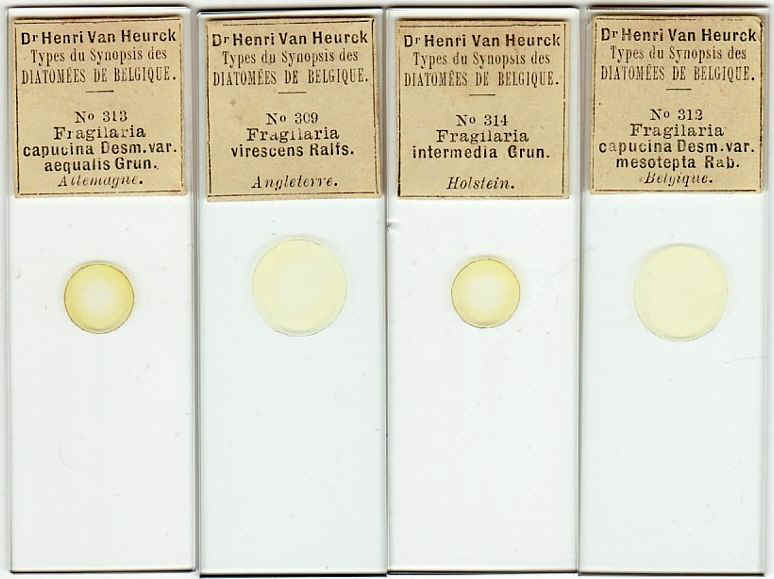 Four mounts (c. 1885) by Dr. H. F. Van Heurck, the noted Belgian Diatomist. These were originally part of one of the 550 slide sets made up to accompany his work "Synopsis des Diatomees de Belgique" begun in 1880. (above image courtesy of Maureen Carter). Shown below, an image taken from a Watson & Sons mount "Various Diatoms" using DIC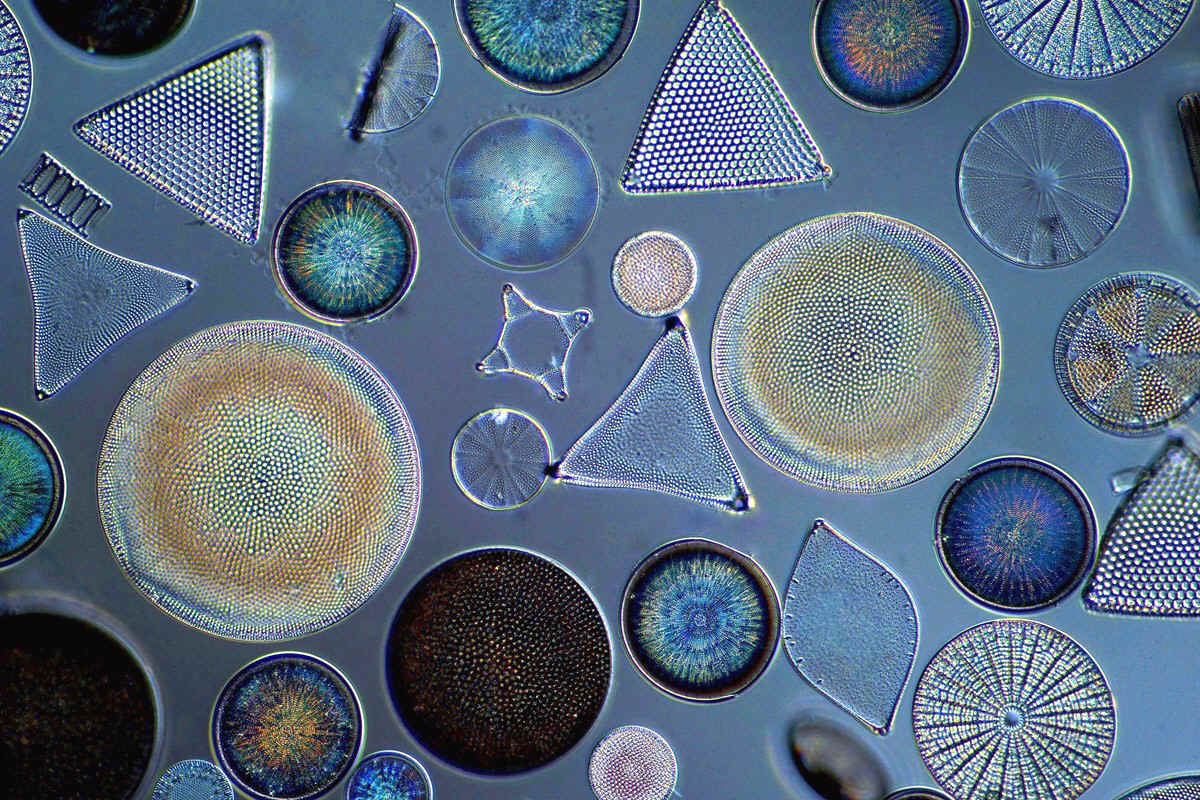 | | |
| --- | --- |
| | Various Diatom forms |
| Mid 19th century Diatom mount by noted Irish Botanist Professor George Dickie | |
Above, the beautiful diatom form Kittonia Elaborata from Oamaru, NZ, imaged using both Darkfield and Brightfield
The four slides pictured above were all mounted by the Rev. W. (William) Smith, a famous early Diatom Specialist and Professor of Natural History, who published "A Synopsis of the British Diatomaceae" 1853-56, 2 vols.
Two engraved glass Diatom mounts by Rev. William Smith.

The interesting slide on the left is engraved (above the specimen)... "Diatomaceous earth", "Lough Mourne", "Co. Antrim", "N.E. shore"... (and below the specimen), "Ann. Nat. His", "Feb. 1850". The initials "Wm.S." are as normally seen, positioned in the lower left corner of the mount, but with the addition of a small "m". Research indicates this particular location (Lough Mourne Deposit) is referred to in his 2 vol. work "British Diatomaceae" (see pages here, mid-way on 2nd page). It evidently was one of a small group of slides prepared as the basis for his research paper published in the "Annals of Natural history", Feb 1850 edition, and referred to in his later publication on the British Diatomaceae.

On the right, an engraved mount bearing another Mr. Smith's (of Wray) signature, and dated "10 April 1851"... a mount from one of Rev. W. Smith's numerous contributors.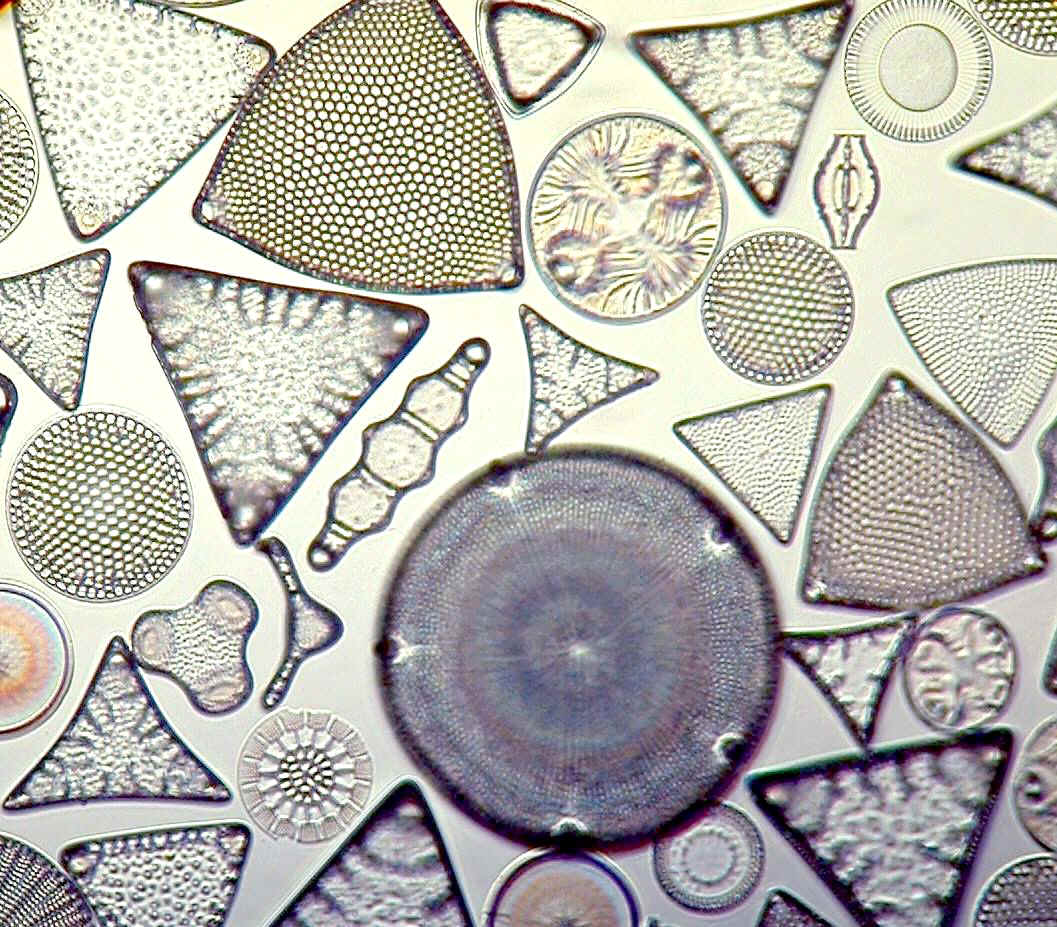 Group of selected diatoms; imaged using Phase Contrast techniques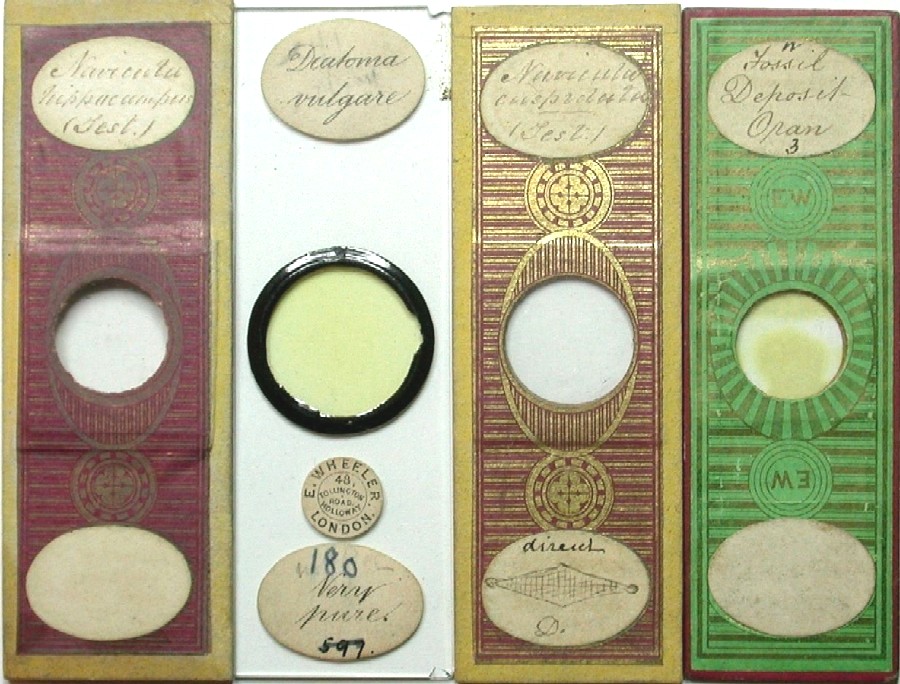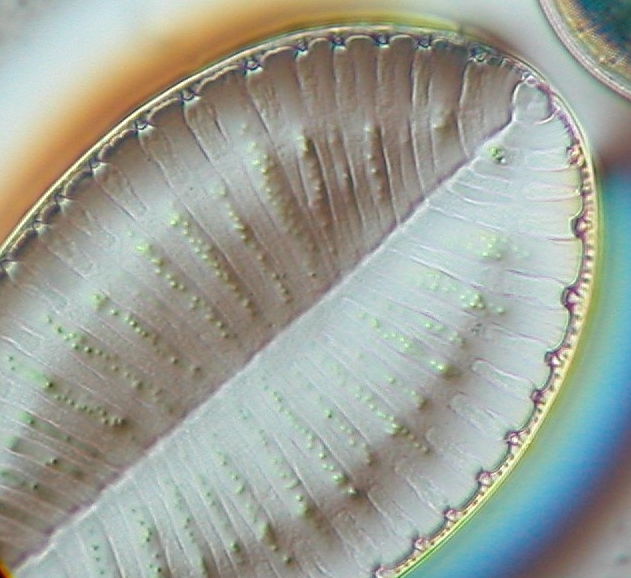 Single diatom; image taken using DIC (Differential Interference Contrast)
Low magnification detail of a J.D. Moller 80 sp. Typen-Platte slide, with photographed on names (c. 1880s)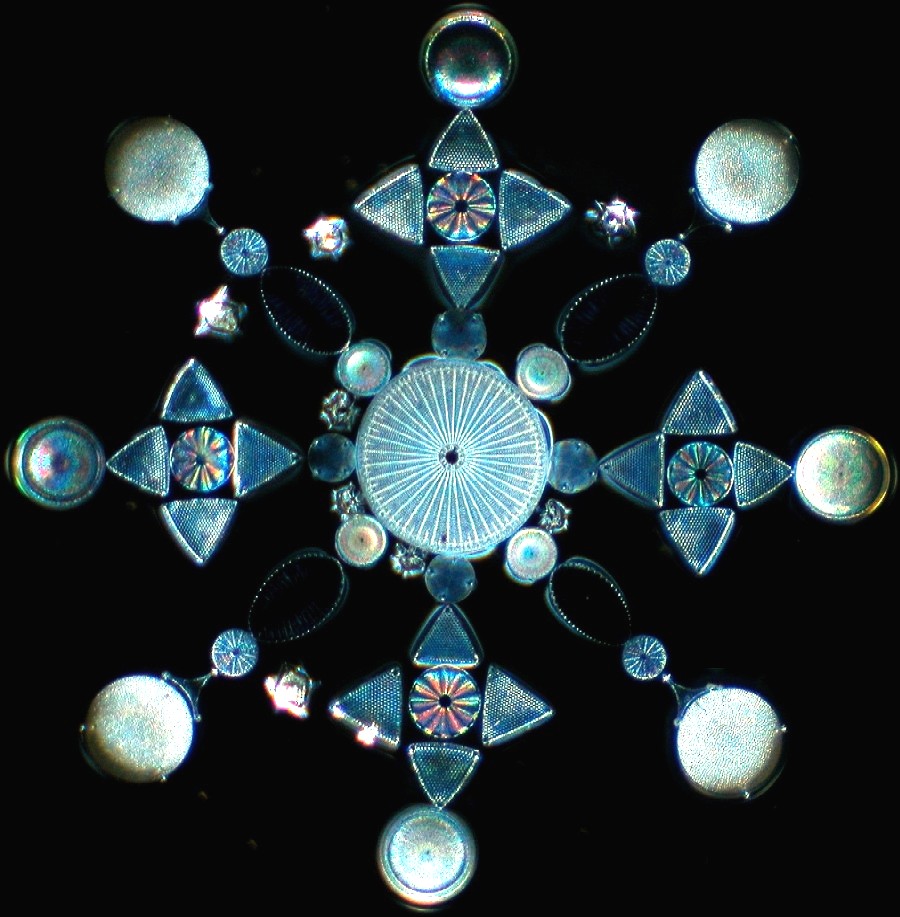 Exhibition Mount of Arranged Diatoms, imaged using Darkfield lighting techniques